Experience the Energy of God in Worship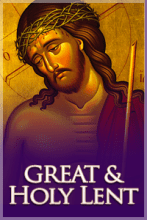 I hear it too often. "You don't have to be in Church to pray to God." "You can find God in the beauty of His creation." "God doesn't care whether we say the right prayers. He just wants us to be nice to other people." These catch phrases are common coming from those who, simply put, don't want to be burdened with attending Church services. I know we've been talking about fasting as part of our Daily Lenten Journey, but Great Lent is about more than just what is cooking on the stove for tonight's dinner.
It is also about take extra time during the week in Church attending various Lenten services, such as Great Compline. In today's reading from the Prophet Isaiah below, we hear about the blessing he felt when he experienced the energy of God in heaven. In these few verses, Isaiah teaches us what it is going to be like in heaven – perpetual worship of God, with angels surrounding His Throne singing His praises and offering incense. If heaven is the continual worship of God, then we should start preparing ourselves from now to experience heaven AS heaven. That means we will enjoy being there, worshiping and praising God. Have you ever wondered how you can prepare to enjoy heaven?
Thankfully God gives us a glimpse of heaven, right here on earth, in the Church. When God commanded Moses to build the Temple, and to practice certain rituals in the Temple, He wasn't choosing random actions, but actions that would best prepare us for heaven. Since Heaven is filled with incense, there is incense in the Temple. Since the angels of God surround His Throne, there is a Throne in the Temple. In fact, everything we see and do in the Church during worship services, is also being done in heaven, and during Great Lent, this is exceptionally obvious. Before the week is over, make it a point to attend one of the special Lenten services in your parish, and take special notice of today's imagery. You'll notice that you are already experiencing God's energy when you smell the incense and see the flickering candles. It's what they're doing in heaven. Let's do it here on earth too!
In the year that King Uzziah died I saw the Lord sitting upon a throne, high and lifted up; and his train filled the temple. Above him stood the seraphim; each had six wings: with two he covered his face, and with two he covered his feet, and with two he flew. And one called to another and said: "Holy, holy, holy is the LORD of hosts; the whole earth is full of his glory." And the foundations of the thresholds shook at the voice of him who called, and the house was filled with smoke. And I said: "Woe is me! For I am lost; for I am a man of unclean lips, and I dwell in the midst of a people of unclean lips; for my eyes have seen the King, the LORD of hosts!" Then flew one of the seraphim to me, having in his hand a burning coal which he had taken with tongs from the altar. And he touched my mouth, and said: "Behold, this has touched your lips; your guilt is taken away, and your sin forgiven." And I heard the voice of the Lord saying, "Whom shall I send, and who will go for us?" Then I said, "Here am I! Send me." And he said, "Go, and say to this people: 'Hear and hear, but do not understand; see and see, but do not perceive.' Make the heart of this people fat, and their ears heavy, and shut their eyes; lest they see with their eyes, and hear with their ears, and understand with their hearts, and turn and be healed." Then I said, "How long, O Lord?" And he said: "Until cities lie waste without inhabitant, and houses without men, and the land is utterly desolate, and the LORD removes men far away, and the forsaken places are many in the midst of the land." – Isaiah 6.1-12