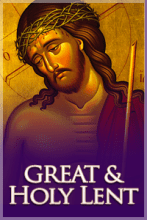 In normal times, these are not normal times, it isn't much of a challenge to view the present with the eyes of the future. We know that hard work now pays off later. We recall the fable of the tortoise and the hare. Slow and steady wins the race. But in times of stress such as these days, it can be difficult to focus on the future when today seems to be enough of a struggle.
During Great Lent, our efforts of prayer, fasting and almsgiving are meant to focus our attention on our eternal soul's relationship with God. But this is not a normal Great Lent. Our fasting from food seems to be the least of our stress, with certain food staples in shot supply on grocery shelves. Our prayers are focused on asking God to get us through this crisis, more than whether our soul is prepared for the Kingdom. Quite frankly, it can be difficult to focus on heaven when every day earthly needs are difficult to come by. When it comes to almsgiving, we wonder if WE will be the ones in need soon, as paychecks dwindle or come at all during the national shut down.
Consider the reading today from Genesis. (You can read it below) Jacob's father-in-law was working against him, not just once but consistently. He changed his wages and cheated him. He even tried to con him into fewer goats, but God didn't abandon Jacob and his family. I share this not to say that God will get back at anyone for our current struggle, but to remind you that struggle is natural and sometimes, as in the case of today's reading, caused by our fellow human beings. In the midst of it all, God is there for us and with us.
Seeing Jacob's faithfulness, God rewarded him and brought him out of struggle. It is also important to notice that God didn't stop Jacob's father-in-law from working against him. Instead, God blessed Jacob through the suffering and brought him out of suffering to a new home. We are suffering now, and God will lead us out of suffering to a new home. That new home is heaven. We will still need to endure the struggle here as Jacob did then, but God will be with us through the entire struggle always blessing us. We aren't in this for the short term, we are in it for the long game.
Then the LORD said to Jacob, "Return to the land of your fathers and to your kindred, and I will be with you." So Jacob sent and called Rachel and Leah into the field where his flock was, and said to them, "I see that your father does not regard me with favor as he did before. But the God of my father has been with me. You know that I have served your father with all my strength; yet your father has cheated me and changed my wages ten times, but God did not permit him to harm me. If he said, 'The spotted shall be your wages,' then all the flock bore spotted; and if he said, 'The striped shall be your wages,' then all the flock bore striped. Thus God has taken away the cattle of your father, and given them to me. In the mating season of the flock I lifted up my eyes, and saw in a dream that the he-goats which leaped upon the flock were striped, spotted, and mottled. Then the angel of God said to me in the dream, 'Jacob,' and I said, 'Here I am!' And he said, 'Lift up your eyes and see, all the goats that leap upon the flock are striped, spotted, and mottled; for I have seen all that Laban is doing to you. I am the God of Bethel, where you anointed a pillar and made a vow to me. Now arise, go forth from this land, and return to the land of your birth.'" Then Rachel and Leah answered him, "Is there any portion or inheritance left to us in our father's house? Are we not regarded by him as foreigners? For he has sold us, and he has been using up the money given for us. All the property which God has taken away from our father belongs to us and to our children; now then, whatever God has said to you, do." – Genesis 31.3-16