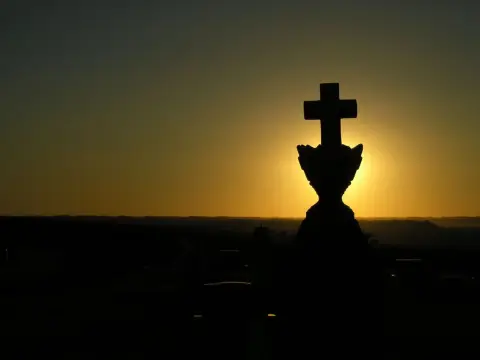 If I were to begin today's blog by telling you horrible things would happen if you do not repent, you would think I had gone off my rocker. This is because, first and foremost, I am not a prophet. Second, we don't often hear from prophets in modern times. The voice of prophets seems to be limited to the past. Because we can look back and understand through history what the prophets said, we declare them prophets. If history proved them wrong, they were kooks.
Today I will tell you that if you do not repent, then horrible things will happen. They may not happen today or tomorrow. They may not even happen in your lifetime, but without repentance, our eternity will be horrible. This doesn't make me a prophet. It does, however, mean I use the voice of prophecy.
In the ancient world prophets weren't future tellers. They were inspired by God to warn people what would take place if things didn't change. Take for example the prophecy of Saint John of Kronstadt whose memory the Church commemorates today. He warned the Russian faithful that, if they didn't repent, horrible things would happen. Shortly after he reposed in the Lord, the revolution took place ushering in decades of torture against the Church. Did he tell the future, or did he just understand God?
In those days, Peter, standing with the eleven, lifted up his voice and addressed them, "Men of Judea and all who dwell in Jerusalem, let this be known to you, and give ear to my words. For these men are not drunk, as you suppose, since it is only the third hour of the day; but this is what was spoken by the prophet Joel: 'And in the last days it shall be, God declares, that I will pour out my Spirit upon all flesh, and your sons and your daughters shall prophesy, and your young men shall see visions, and your old men shall dream dreams; yea, and on my menservants and my maid servants in those days I will pour out my Spirit; and they shall prophesy. And I will show wonders in the heaven above and signs on the earth beneath, blood, and fire, and vapor of smoke; the sun shall be turned into darkness and the moon into blood, before the day of the Lord comes, the great and manifest day. And it shall be that whoever calls on the name of the Lord shall be saved.'"

Acts 2.14-21
Today is also the commemoration of the prophet Joel, who had foretold the coming of the Holy Spirit. God had inspired him to tell His people about the hope of the future. There is nothing that could instill hope like God 'pouring our His Spirit' upon the people. That being said, the Prophet Joel wasn't a 'future teller' in the sense that he never said WHEN God was going to 'pour out' the Spirit, except to say, "In the last days."
Well, the Holy Spirit was poured out more than two thousand years ago on Pentecost. If those were the last days, then we are living on borrowed time. At any moment, God will return to judge us and usher in the New Kingdom. If we don't repent NOW and prepare for His coming, we will be caught off guard.
It doesn't require a future teller to understand that we must repent. God has already told us He was returning without notice. The voice of the prophets merely serves as a reminder for our conscience that we aren't read like we should be.
So….get ready! Call your spiritual father and schedule a confession. Take a good look at your life and make the changes you already know need to be made. If not, horrible things will happen. I'm not predicting it. I'm just reminding you. God already said it.